Event Invitation:
ESG INSIGHTS 2023 – NEW PERSPECTIVES
A seminar for Issuers and ESG professionals in the banking and finance industry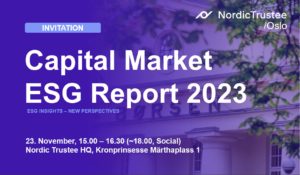 Nordic Trustee/ Stamdata are pleased to welcome you to the launch of the Capital Market ESG Report 2023 and our new public ESG website. The event will take place at our Oslo office on Thursday November 23 from 15:00-16:30 (social ~18:00).
Curious to understand how issuers in the Norwegian and Swedish capital market are performing on carbon emissions reduction or on de-coupling emissions from revenues? Interested in how companies listed on Oslo Børs are performing on ESG metrics compared to companies listed on Nasdaq Stockholm? Wondering about gender diversity in the boardrooms of unlisted issuers?
As the 2022 Corporate Sustainability Reporting season concludes, Nordic Trustee/Stamdata extends a warm invitation to the ESG community and other stakeholders for an informal afternoon gathering. Join us for refreshments, beverages, and valuable insights into the latest ESG data reported by Norwegian and Swedish issuers, offering a comprehensive view of market-wide and sector-specific trends. In addition, we will give you a demo of the new public ESG website that also will be launched at the event.
WHY ATTEND:
Our new ESG Report will provide insights and new perspectives (not ever disclosed before, incl. typical mistakes we see ESG reporting issuers make)
Our new ESG website will make standardized ESG-data available in the public domain (and will bring transparency into the ESG performance of issuers)
WHEN AND WHERE:
Thursday November 23rd , 15:00-18:00
Nordic Trustee's Oslo office, Kronprinsesse Märthas Plass 1, 7th floor
AGENDA:
15:00-16:00 Introduction and presentation of the report – Aleksander Nervik, CEO, Stamdata  
16:00-16:15 Introduction of a new public ESG website – Casper Svendsen, ESG Analyst, Stamdata
16:15-16:30 Q&A and update on our new initiatives – Johan Bernhard C. Berle, Product Manager, Stamdata
16:30-18:00 Mingling, snacks and drinks – feel free to stay as long as you want or leave whenever you feel like
 Please note, only 50 seats are available at the event (first come, first served). To save yourself a seat, please register by sending an email to esg@stamdata.com as soon as possible.
We look forward to seeing you!
Nordic Trustee / Stamdata
+47 22 87 94 00
Nordic Trustee / nordictrustee.com
Stamdata / stamdata.com