Nordic Trustee and Stamdata are pleased to announce the release of the first Capital Market ESG Report for the Norwegian and Swedish capital markets, effective for the financial year 2022.
This report provides an essential analysis, spotlighting relevant sustainability data from equity and bond issuers within those markets.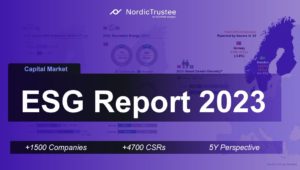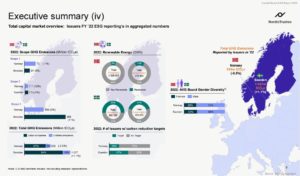 The report indicates a notable trend: Issuers listed on Oslo Børs and Nasdaq, consistent in disclosing GHG emissions last five years, have clearly reduced their scope 1 and 2 emissions since 2018. However, the Scope 3 emissions present a varied picture, with a significant increase on Nasdaq contrasting Oslo Børs' modest reduction since 2018. Despite a substantial increase in reporting entities, these listed issuers' performance effectively mitigates a proportional rise in emissions, signifying proactive measures within the market.
Key Report Findings include:
Total reported GHG emissions from issuers in the Norwegian capital market were 539m tCO2e in 2022, down by 2.5m (-0,5%) from 2021.
Total GHG emissions reported by issuers in the Swedish capital market were ~1 027m tCO2e in 2022, up with 11.6m (+1.1%) from 2021.
Renewable energy constituted 8% and 14% of total energy production and consumption in Norway respectively, while in Sweden, it accounted for 53% and 41% respectively.
The ratio of females to males in the boardrooms of issuers in Norway has remained unchanged over the past five years, in contrast to a 3% increase observed across all sectors in Sweden.
Swedish issuers have emerged as leaders in both adopting taxonomy reporting and establishing carbon reduction targets, with 47% of them setting targets, a notable contrast to Norway's 24%
The report further emphasizes the necessity for environmental, social, and governance data, underlining the pivotal role of capital markets in combating climate change and sustainable corporate practices. With rigorous validation processes, the report serves as a valuable resource for stakeholders looking to understand and navigate the evolving ESG landscape.
For more detailed insights, visit the new public website NordicESG.com
Download the full report here: Capital Market ESG Report 2023