Nordic Trustee´s team in Frankfurt is pleased to announce their appointment as Facility Agent and Security Agent in ELF Capital Group's recent acquisition financing of monta Klebebandwerk GmbH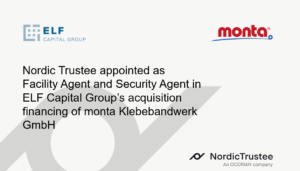 Nordic Trustee's entire deal team congratulates all participants to this transaction. We are excited of having facilitated the successful close of this German Mittelstand M&A transaction.
About Nordic Trustee Germany
Nordic Trustee in Germany is an independent and conflict free service provider specialising in providing a wide range of financial services to the leverage finance and capital markets industry. Nordic Trustee is part of OCORIAN group.
For more information, please contact Dr. Stefan Luthringshauser, CEO Germany or Andreas Schräder, Senior Director at germany@nordictrustee.com